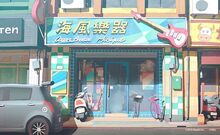 Ocean Breeze Music is a location found in Lan Kong Town.
Description
Edit
In the same bustling shopping district as He Sheng Bakery, there's also the music shop operated by Qian Qian's relatives. The shopping district used to be Lan Kong Harbour's grounds for imported goods in the early days, with the owner back then offering guitars, basses, ukuleles and all sorts of instruments for the many visitors passing through. Later on residents of Lan Kong Town were able to expand beyond their means of livelihood, beginning to improve the quality of their lifestyles. Besides selling instruments, Ocean Breeze Music gradually started to cooperate with local schools, developing courses and leading related clubs, becoming the irreplaceable music shop within Lan Kong Town. Whenever Qian Qian has free time she comes to work at Ocean Breeze Music, to help out in the shop and also earn some money for household subsidies.
Ocean Breeze Music was first seen in the VOEZ teaser.